Hospitality WiFi Solutions Tailored to Your Needs
We design and deliver managed broadband and WiFi solutions for restaurants, bars, hotels, and malls.
Hospitality WiFi without the Hassle

"We aren't your average managed broadband provider. We listen carefully to our customers to ensure we deliver custom, cost-effective solutions that deliver results."
Here at Optimus Networks, we create bespoke hospitality WiFi solutions that require minimal input or maintenance from our clients.

We have the expertise, experience and specialised equipment needed to provide your patrons with high-speed, reliable WiFi. We'll handle the technical stuff while you focus on your customers.

Want to dive right in? Call us today on 0333 016 4050 to learn more about our high-speed hospitality WiFi solutions.

What We Do
Optimus Networks provides managed broadband services for companies in the hospitality industry. We will take care of everything on your behalf, including:


Hardware and software procurement

We understand that today's consumers demand high speeds and exceptional reliability for streaming and fast downloads.

Let us provide your customers with the premium hospitality WiFi they've come to expect over the years — and steal a march on your competitors.


The Optimus Networks Guarantee
Speed, reliability and customer service lie at the heart of everything we do. Our team of experts has been installing and managing WiFi for business for many years, so we know exactly what's required to give hospitality guests the experience they expect.
When you choose us for managed hospitality WiFi, you're guaranteed:

A cost-effective WiFi solution for hotels, restaurants, and hospitality venues

In-built reliability — minimising downtime and maximising customer experience

Scalable solutions that grow as your customer base grows

Enhanced security that instils trust among consumers

The peace of mind that comes from knowing your hospitality WiFi is in safe hands

The ability to leave the technical stuff to the experts while you focus on your customers

Increased productivity — for management, employees and customers

Controlled access for guests
Whether you need WiFi for restaurants or hotels, the first step to getting it is a phone call. Book your free, no-obligation consultation today, and we'll show how we can revolutionise your business with fast and reliable connectivity for everyone.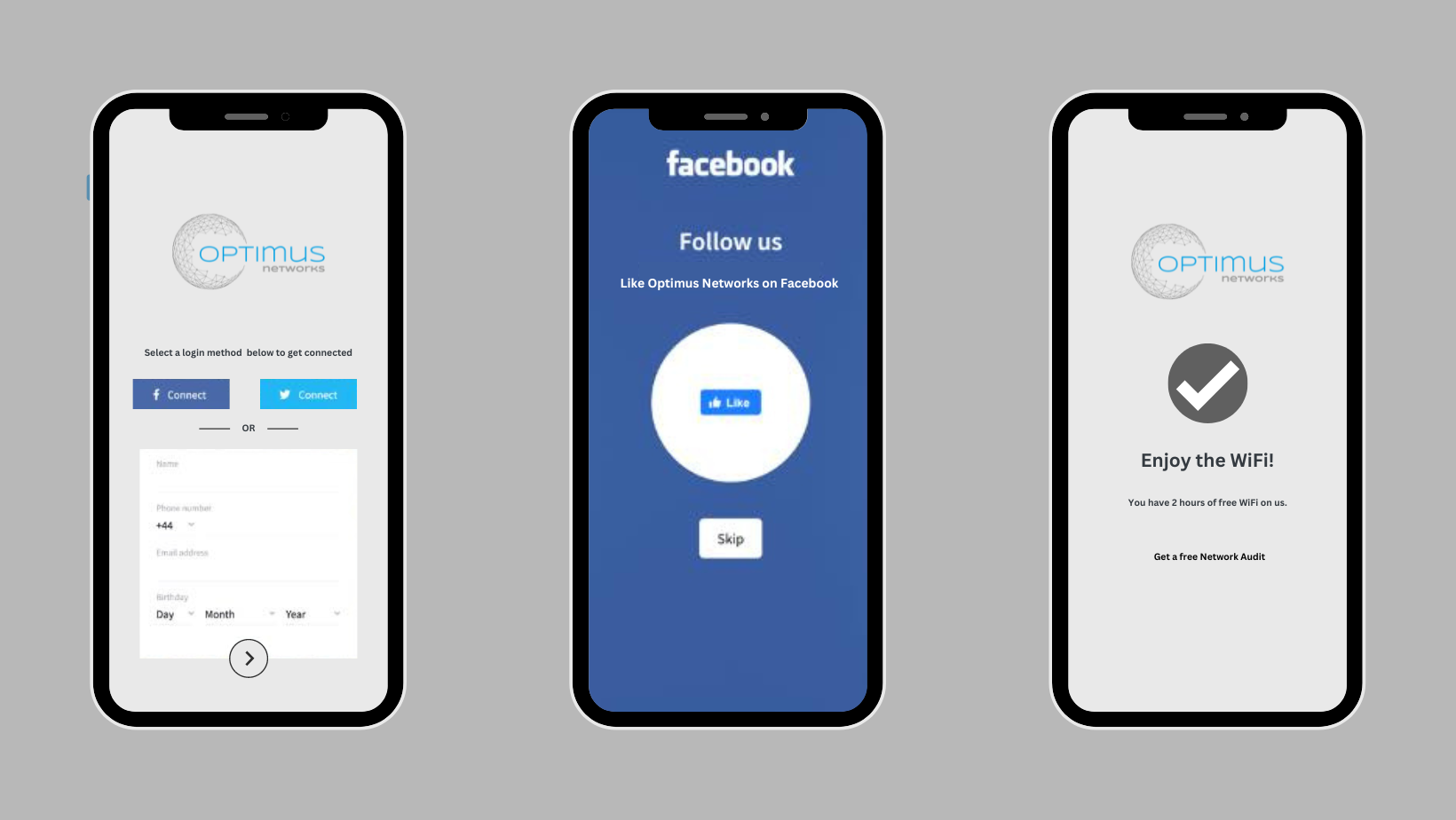 What You Can Expect
From WiFi for hotels to around-the-clock broadband support, you can expect a selection of features and services aimed at giving your customers a premium online experience.
Coverage Guarantee
We'll assess your location and create a bespoke wireless solution that leaves no area of your premises without reliable WiFi coverage.

Custom Network Design
We understand that no two hospitality premises are the same. That's why we'll create a network based on the specific needs and challenges of your business.

Optimisation and Support
Our work continues long after installation. We'll be there to ensure everything is running smoothly and technical issues are resolved swiftly.

Backup Connectivity
Even the best hospitality WiFi networks will fail from time to time. That's why we always offer a backup service — ensuring your customers are never left without connectivity.

Flexibile Access
We can offer your guests up to 30 minutes of free WiFi access every day. There are also various payment options, including monthly payments for ongoing connectivity.

A Complete Solution
We can take care of everything from design to installation, including the provision of all the necessary equipment. In short, you'll never have to go anywhere else for hospitality WiFi.

Multiple Connectivity Options
Allow your guests to connect multiple devices to the internet with a single account. And give hotel patrons in-room wired connectivity with reliable ethernet ports.

Company Branding
Ensure your branding is the first thing guests see when they land on the internet access sign-up web page.

Give Your Customers the Internet Connectivity They Deserve

Your customers chose your business because they believe in what you're doing; they trust you to look after them — whether dining or staying the night. Return their loyalty with high-speed hospitality WiFi that won't let them down. 
Ready to Get Started?
0333 016 4050
Or book a free online consultation